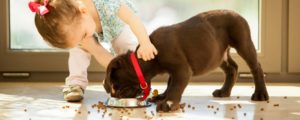 By Geoff Ramsey, CRS, GRI
President, Greater Chattanooga REALTORS®
Recently, I adopted a dog from a local shelter and began thinking of challenges pet owners face when selling a home. We all love our pets whether they be dogs, cats, hamsters, or rabbits – but that doesn't mean potential buyers want to be greeted by them when viewing a home or see evidence of them when considering what home to put an offer on. Likewise, pets are our furry children and there are essential steps pet owners can take to ensure the process of buying or selling is smooth without disrupting routine too much.
Check your insurance. While the best option is to take pets on a little car ride during showings or have a neighbor watch them during an open house, it's not always possible. And while you might be confident your pet would never hurt anyone, know that you could be held liable for any harm your pet causes. Make sure homeowners insurance covers incidents like these.
Prepare your yard. Potential buyers will likely take a stroll around your yard. Be sure to clean up scattered toys and dispose of any waste Fido decorated the yard with.
Repair any damage. If there are scuffs on the arm of a chair from where your cat likes to rub, strategically drape a blanket over it. Address any hair or stains on carpet and rugs throughout the home. That will not only help with odors, but will help potential buyers focus on the home rather than wondering what that odd stain is on the dining room rug.
Remove the odors. Along with regular vacuuming, scatter reed diffusers throughout the home to help mask any scents that will distract from the home. Keep fish tanks clean, litter boxes fresh (and hidden during showings), and wash all blankets your pet uses to lounge on.
Pets often determine which neighborhoods and homes buyers consider-whether that be the walkability of the neighborhood or a fenced in backyard. However, taking these steps as a seller, will help potential buyers picture themselves in the home rather than your pets.
Greater Chattanooga Realtors® is The Voice of Real Estate in Greater Chattanooga. A regional organization with more than 2,000 members, Greater Chattanooga Realtors is one of some 1,300 local boards and associations of Realtors® nationwide that comprise the National Association of Realtors®. Greater Chattanooga Realtors service Hamilton and Sequatchie counties in southeast Tennessee, and Catoosa, Dade, and Walker counties in northwest Georgia. For more information, visit www.gcar.net or call 423.698.8001