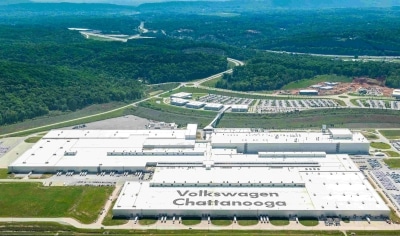 Volkswagen To Open Its 1st North America Electric Vehicle Manufacturing Facility In Chattanooga; To Add 1,000 Jobs With $800 Million Investment
On Monday, January 14, 2019, Volkswagen announced a major expansion to the Chattanooga plant. This will greatly impact the real estate market in Chattanooga and the surrounding areas. Here is the article as posted on the chattanooogan.com website.
Chattanooga will be home to Volkswagen's first electric vehicle manufacturing facility in North America, officials announced Monday.
The project represents an investment of $800 million by Volkswagen and the creation of 1,000 jobs in Hamilton County, Governor Bill Haslam and Department of Economic and Community Development Commissioner Bob Rolfe said.
"The shift toward electric vehicles is a trend that can be seen worldwide, and Volkswagen's decision to locate its first North American EV manufacturing facility in Chattanooga underscores Tennessee's manufacturing strength and highly-skilled workforce," Governor Haslam said. "As one of Hamilton County's top employers, these additional 1,000 jobs will have a lasting impact on the region. I thank Volkswagen for its partnership and also applaud the company for its ongoing commitment to education and workforce alignment, which helps Tennessee build a pipeline of talent for years to come."
"Today's announcement is a tremendous win for Tennessee as it shows that our state continues to be a prime location for foreign direct investment," Commissioner Rolfe said. "With a current workforce of 3,500, nearly 20 percent of Tennesseans employed by German companies are employed by Volkswagen. We appreciate Volkswagen for its continued confidence in our state and for the addition of 1,000 jobs in Hamilton County."
Chattanooga will be the first manufacturing facility in North America that will produce vehicles using Volkswagen's modular electric toolkit chassis, or MEB. The first Volkswagen electric vehicle will roll out in 2022.
"The U.S. is one of the most important locations for us, and producing electric cars in Chattanooga is a key part of our growth strategy in North America," said Dr. Herbert Diess, CEO of Volkswagen AG. "The management team, led by Scott Keogh, is committed to continuing to increase our market share in the coming years. Together with our ongoing investments and this increase in local production, we are strengthening the foundation for sustainable growth of the Volkswagen brand in the U.S."
In addition to Chattanooga, Volkswagen is building the first dedicated EV production facility in Zwickau, Germany, starting MEB production by the end of 2019. Volkswagen will also add EV production at facilities in Anting and Foshan, in China, in 2020, and in the German cities of Emden and Hanover by 2022. The VW brand has forecasted selling 150,000 EVs by 2020 worldwide, increasing that number to 1 million by 2025.
Volkswagen's Chattanooga facility is more than 3 million square feet and situated on 1,400 acres. In 2011, the Chattanooga plant became the first and only automobile manufacturing facility in the world to be certified LEED Platinum. The Volkswagen midsize Atlas SUV and Passat sedan are currently built in Chattanooga. More than 100,000 Atlas SUVs and 700,000 Passats have been manufactured at the plant.
In March 2018, Volkswagen announced an additional investment of $340 million in Chattanooga to build the five-seat version of the Atlas, the Atlas Cross Sport, which will begin production later this year. The Atlas Cross Sport announcement brought Volkswagen's total investment at that time to $2.3 billion.
Local leaders and the Tennessee Valley Authority praised Volkswagen for its decision to expand its footprint in Southeast Tennessee.
"This is another exciting day for Volkswagen and Hamilton County," Hamilton County Mayor Jim Coppinger said. "Volkswagen has again proven to be a tremendous economic partner with this $800 million expansion that will create another 1,000 jobs for Hamilton County."
"Volkswagen's latest investment in Chattanooga is great news for our city. The 1,000 jobs this line will create means wages are growing and our city is stronger," Chattanooga Mayor Andy Berke said. "For more than a decade, Volkswagen has proven time and again that when they invest in Chattanooga, their company and our community succeed together."
"TVA and EPB are excited to congratulate Volkswagen on its decision to expand operations in Chattanooga," said TVA Senior Vice President of Economic Development John Bradley. "Helping to facilitate job creation is fundamental to TVA's mission of service and we are privileged to partner with the Tennessee Department of Economic and Community Development, Chattanooga Area Chamber of Commerce, city of Chattanooga and Hamilton County to facilitate impactful new job creation by Volkswagen, one of our region's major employers."
Rep. Bo Watson said, "The announcement by Volkswagen to invest $800 million in building the next generation of vehicles in Chattanooga, and provide 1,000 new jobs to do so, serves as testament to the confidence they have in our growing community as well as our developing work force," said Senator Bo Watson (R-Hixson), who chairs the Senate Finance, Ways and Means Committee. "This will have a huge positive impact on citizens and businesses throughout our communities and will continue to strengthen our state's strong concentration in automobile manufacturing. I congratulate all our state and local officials who helped secure these jobs. We will continue to make job creation our top priority."
Rep. Chuck Fleischmann said, "I am elated to hear of the continued commitment and expansion of Volkswagen in Chattanooga. Today's announcement that Chattanooga has been selected as the North American hub of electric-vehicle manufacturing beginning in 2022 promises to be extremely beneficial with a multi-million dollar investment and the creation of new job opportunities. I look forward to this announcement coming to fruition and I thank Volkswagen for being a driving force in the success and prosperity of Hamilton County."
Tennessee ranks No. 1 in the nation for automobile manufacturing employment concentration. The state is also home to three major automotive assembly plants and more than 900 suppliers that operate in 88 of the state's 95 counties.