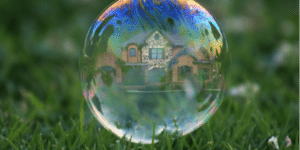 By Geoff Ramsey, CRS, GRI
President, Greater Chattanooga REALTORS®
Housing price bubble chatter has increased this summer, as market observers attempt to predict the next residential real estate shift. At Greater Chattanooga Realtors' Economic Outlook Luncheon on August 15, keynote speaker Lawrence Yun, Chief Economist for National Association of Realtors® spoke to Greater Chattanooga's economy as strong because of low unemployment rates, new jobs for the past 8 years, and low interest rates.
It is too early to predict a change from higher prices and lower inventory, but the common markers that caused the last housing cooldown are present. Wages are up but not at the same pace as home prices, leading to the kind of affordability concerns that can cause fewer sales at lower prices. At the same time, demand is still outpacing what is available for sale in many markets.
New Listings in the Chattanooga region increased 7.1 percent to 1,256. Pending Sales were up 7.9 percent to 956. Inventory levels shrank 16.0 percent to 2,830 units.
Prices continued to gain traction. The Median Sales Price increased 1.9 percent to $186,500. Days on Market was down 25.9 percent to 40 days. Sellers were encouraged as Months Supply of Inventory was down 17.1 percent to 3.4 months.
Consumer spending on home goods and renovations are up, and more people are entering the workforce. Employed people spending money is good for the housing market. Meanwhile, GDP growth was 4.1% in the second quarter, the strongest showing since 2014. Housing starts are down, but that is more reflective of low supply than anything else. With a growing economy, solid lending practices and the potential for improved inventory from new listing and building activity, market balance is more likely than a bubble.
Get a more detailed look at Home Sales numbers. Lawrence Yun's presentation, and connect with a Realtor on www.gcar.net. Whether you're looking to buy, sell, or simply stay in-the-know with what's happening in Greater Chattanooga real estate, you can count on us to keep you in the loop.
For more information about buying or selling a home, contact Geoff Ramsey REALTOR®.
Greater Chattanooga Realtors® is The Voice for Real Estate in Greater Chattanooga. A regional organization with more than 2,000 members, Greater Chattanooga Realtors is one of some 1,300 local boards and associations of Realtors® nationwide that comprise the National Association of Realtors®. Greater Chattanooga Realtors service Hamilton and Sequatchie counties in southeast Tennessee, and Catoosa, Dade, and Walker counties in northwest Georgia.