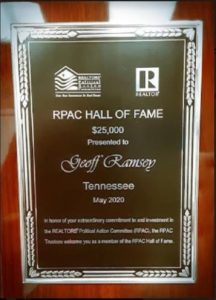 Greater Chattanooga Realtors announced that Realtor member Geoff Ramsey was inducted to the National Association of Realtors (NAR) Realtors Political Action Committee (RPAC) Hall of Fame.
Mr. Ramsey has been an RPAC Major Investor for seven years, and a President's Circle Member for six years. Over this time, Mr. Ramsey has invested more than $25,000.
"Realtors are advocates for homeowners across the country, and I'm proud to do my part to help protect homeownership for future generations by supporting leaders who do the same," said Mr. Ramsey.
Brandi Pearl Thompson, 2020 president of Greater Chattanooga Realtors, congratulates Mr. Ramsey on this milestone. "Geoff has been a leader in his advocacy and Realtor spirit, and our association is very proud of his achievement," said Ms. Thompson.