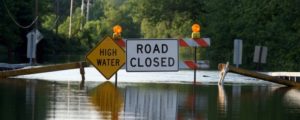 By Geoff Ramsey, CRS, GRI
President, Greater Chattanooga REALTORS®
Did you know that unless members of Congress take action, authority for the National Flood Insurance Program (NFIP) will expire July 31?
If that happens it would be detrimental for our community. For families living along streams, lakes, rivers, oceans, or just about anywhere snow melts or rain falls, floods are an ever-present threat. In fact, over the past century, floods have claimed more lives and caused more property damage than any other natural disaster.
As the leading advocate for private property rights and housing issues in the Chattanooga region, Greater Chattanooga Realtors® strongly believes that affordable insurance is critical to economic growth and development. It's time to get serious about mitigating the flood risk that homeowners face around the country while keeping insurance rates on a gradual glide path to market rates; reducing rates through risk mitigation is a "win-win" for taxpayers and property owners alike.
Congress created the NFIP in 1968 to address the failure of the private market to provide affordable flood insurance. While there is a small but growing private market today, the NFIP ensures access for more than 5 million American home and business owners across 22,000 communities where flood insurance is required for a mortgage.
The NFIP also works to discourage Americans from living in the highest risk flood areas, enabling homeowners to assume the risk and full cost of flooding. This means property owners no longer must rely on expensive taxpayer-funded disaster assistance and instead can make their own, informed decisions about rebuilding and relocating.
Given the widespread devastation that floods cause in areas where there is still not a private insurance market, the federal government ends up involved in these efforts one way or another, either through billion-dollar post-disaster rebuilding programs, or through a federally backed flood insurance program with premiums attached.
One thing that is indisputable is that without the NFIP, millions of properties would be uninsured. And by the increasing number of self-insured properties and reducing the cost of post- disaster government assistance, the NFIP saves taxpayers money.
Along with my fellow Realtors in Greater Chattanooga and across our great nation, I will continue following NFIP reauthorization. I believe that American home and business owners deserve a flood insurance program that is solvent, effective, and able to continue providing protections for decades to come.
Tell Congress to Reauthorize NFIP: Visit www.realtorparty.realtor/renewnfip to send a message directly to Congress.
Greater Chattanooga Realtors® is The Voice for Real Estate in Greater Chattanooga. A regional organization with more than 2,000 members, Greater Chattanooga Realtors is one of some 1,300 local boards and associations of Realtors® nationwide that comprise the National Association of Realtors®. Greater Chattanooga Realtors service Hamilton and Sequatchie counties in southeast Tennessee, and Catoosa, Dade, and Walker counties in northwest Georgia. For more information, visit www.gcar.net or call 423.698.8001.