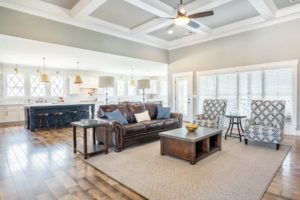 Yesterday we gathered to kick off the 2018 St. Jude Dream Home, and although the weather was cold, our hearts were warmed by the support of everyone who showed up!
We have a
BIG GOAL
this year: to raise
ONE MILLION DOLLARS
for the children and families at St. Jude Children's Research Hospital! The most Chattanooga has ever sought to raise through the Dream Home project.
However, this campaign would not be successful without YOU! (We say it every year, but it's only because it's true)
As we get ready to get the ball rolling on this year's home, we ask that you consider partnering with the GT Issa Team & the Chattanooga community in helping us reach our goal and creating a future impact so no child or family is affected by childhood cancer and terminal illness.
Your support has inspired us believe in the power of teamwork and dedication. Let's make this year the best home yet!
Happy Holidays,
Geoff Ramsey and Gus Issa & the GT Issa Team